Clare Murray Adams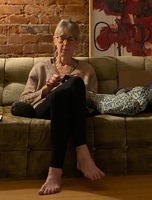 About Clare
Clare Murray Adams was born in Canton Ohio. With a BFA from Kent State University and an MFA from Vermont College Clare is Professor Emeritus of Art and former Chair of the Visual Art Department at Malone University in Canton, Ohio. She now lives in rural Southington Ohio where she maintains an active studio practice.
Clare's Work
Earlier work was strongly rooted in quiltmaking and surface design while more recent work relies on the processes involved in mixed media acrylic painting with collage and encaustic painting. Clare uses found objects and clothing as vehicles for the content of her work allowing her to comment on emotional human qualities and feminist issues. Working in layers and with a variety of media enables her to work both two-dimensionally and sculpturally.
Clare teaches workshops in collage and mixed media and exhibits throughout the United States. The venues where she has shown include
Quilt National
in Athens OH and
The Third Encaustic Invitational
in Tucson AZ as well one person exhibits in Ohio, South Carolina, Michigan and California.